SatckFood is a Multi restaurant food delivery system developed using Laravel and Flutter frameworks. Using StackFood, you can reinvent the way of food ordering and delivery system with its superb admin panel. With StackFood's readymade and highly responsive mobile apps, you'll get a seamless user experience for sure.
Now the question is, why do you need to go with StackFood instead of other food delivery systems available in the market? Well, there is much to talk about it. We just need a few minutes of your valuable time to give this a read.
After that, we hope you'll purchase StackFood AUTO-MAGICALLY to elevate your online food ordering and delivery business, as it's a complete package within your reach!
15+ Reasons to Buy StackFood:
StackFood is a complete package for your online FOOD ordering and delivery business.
2 SUPERB Web panels: Admin Panel & Restaurant panel. (Developed Using Laravel)
3 mobile applications: User app, Restaurant app , and Deliveryman app . (Developed using Flutter) Please note you need to purchase the Restaurant and Deliveryman app separately. Buy Restaurant App & Buy Deliveryman App.
User Website (Developed using React and Flutter) you will get the flutter website free but if you want react website need to purchase separately. Buy React Version.
Landing page (Developed using Laravel blade)
All the apps are available on PlayStore (Android) & AppStore (iOS).
Phenomenal features to enhance the online food ordering and delivery system.
100% responsive design to provide a great user experience.
The admin dashboard holds everything together.
Managing customers at ease.
Constant development with regular updates.
Active customer support to help.
Clean, well-structured, and maintainable code
Value for money system.
Flexible prices, no surprises!
All being mentioned, in order to control your business effectively and get the desired revenue, there will be no better option than StackFood.
N.B: The best way to test the system is to register as a customer and create a Deliveryman credential via the admin panel. Be aware that all demo data will be reset every 1 hour.
Well, do some downloading and browsing to test before moving forward!
StackFood restaurant app is another most important module of the StackFood multi-restaurant food delivery system. The restaurant owners can do all operations with this app besides the restaurant web panel.
IMPORTANT NOTE
Please register a new restaurant from admin panel for a better experience because demo credential may use lots of people which makes your testing unstable.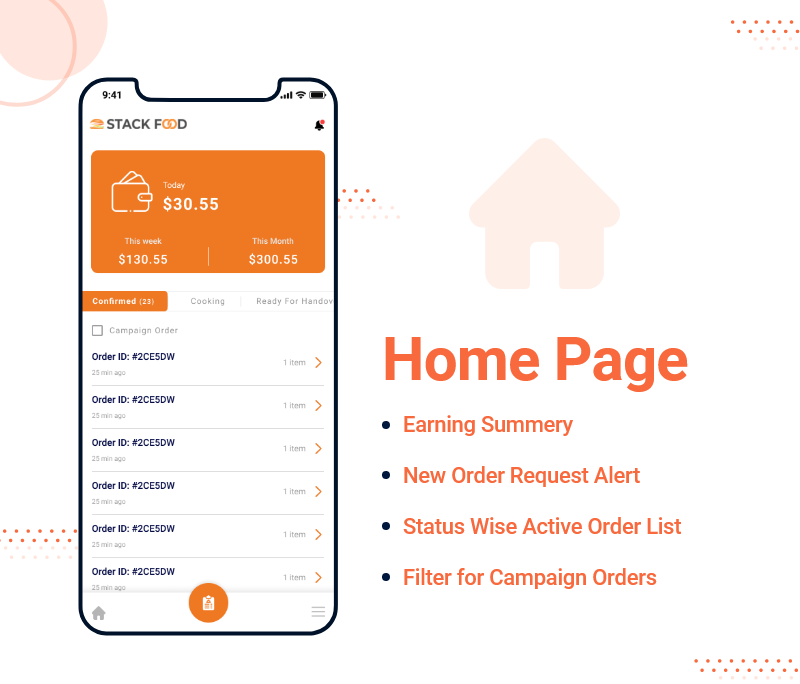 Change Log-

Version 7.1 15 September 2023
- Made it compatible with main system version 7.1
- Delivery proof upload option
- Minimum quantity for order manage
- Digital payment option for restaurant subscription
- Fixed some issues
- Performance improved
- Made the flutter app compatible with flutter sdk 3.13.1